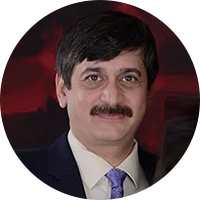 Mr Jwalant Mehta
Mr Jwalant S Mehta is a consultant Children and Adult Spinal Surgeon specialising in spinal deformity corrections and treatment of all spinal conditions. His is based in Birmingham at the Royal Orthopaedic Hospital and the Birmingham Children's Hospital. Additionally, he has practising privileges with the BMI and Spire groups.
He serves on major steering committees of the premier international scoliosis organisation, the Scoliosis Research Society and Associate Vice Chair of the National Research Ethics Committee: Edgbaston.
He is actively involved with teaching and research. He is a Clinical and Educational supervisor with the Birmingham segment of the West Midlands Trauma and Orthopaedics training programme. He has published extensively in peer reviewed journals and has authored chapters in text-books. He serves on editorial boards and is a reviewer for European Spine Journal, Spine, Spine Deformity Journal, Global Spine Journal and Bone & Joint Journal (formerly JBJS).
He graduated from the prestigious G.S. Medical College and the K.E.M. Hospital and has completed his D (Orth) and MS (Orth) from the Mumbai University. He was awarded the MCh (Orth) by the University of Liverpool. He completed the higher surgical training in South East Thames and the Wales Deaneries and was awarded the CCT in 2007.
He completed spinal fellowships in Bristol and Columbia, Missouri, USA. He has been a full time spinal surgeon since 2009. Though his practice focuses on adult and children spinal deformities, he treats all spinal conditions.